Offers


---
From time to time we run special offers including stock clearance items and ex-display, or siimply an exceptionally low price on a piece of furniture - even by our standards! So please keep a weather eye on this page. Call us now on 01789 269476 or email us at th@looksnice.co.uk for further details or to request price lists for any of the items seen here or on our website.
Look at our Facebook page for mirrors in the sale and furniture ranges on offer during January.
---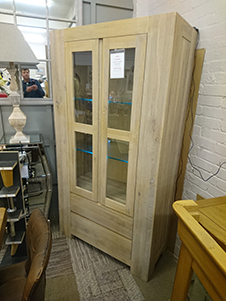 Clemence Richard Massive range. Large two door glazed display cabinet in white oil finish with glass shelves and internal lighting. Size: 1900x1000x480mm
Price new £1249.00 Item from display £525.00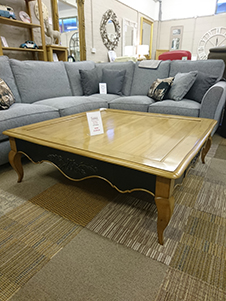 Artcopi. Large solid cherry carved coffee table.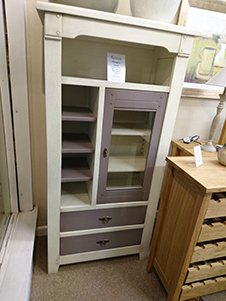 By Couture. Made in France from solid oak. A hand painted, unique and individual piece of furniture. Suggested price £1,299. ONE ONLY £749.00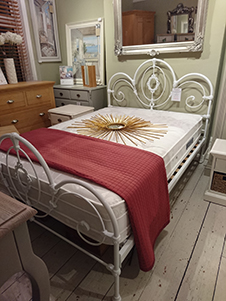 Double bed. Cream painted full steel frame. Beautiful sweeping design delicate yet very sturdy. SALE PRICE £395.00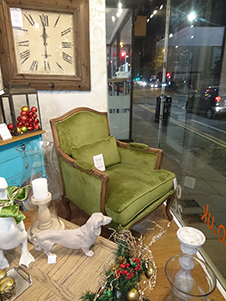 Upholstered in plush green velvet. Luxury arm chair. Normally £699.00 SALE PRICE £399.00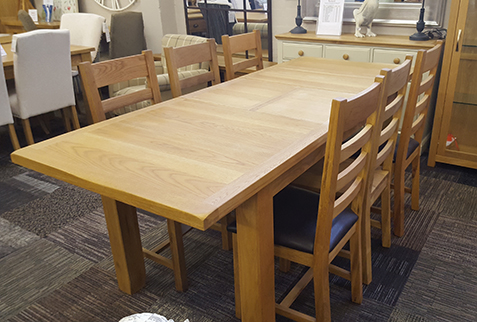 Extending table with six chairs by Simone. Extends to 210cm. RRP £1,479.00 Now less than half price: £699.00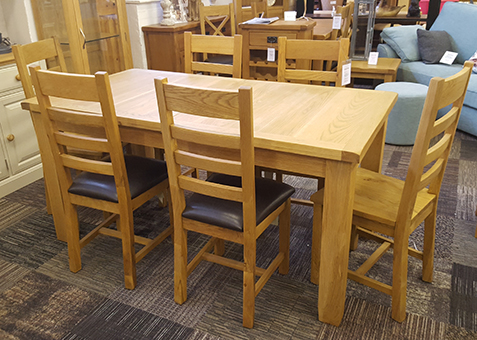 120cm extending table with four chairs by Simone. RRP £1049.00 Now less than half price: £525.00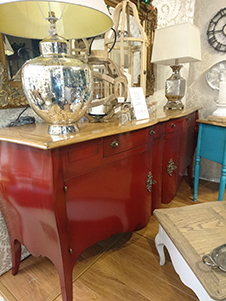 Marquise by Artcopi. Hand made and painted in France. Made from solid cherry wood. A wonderful eye catching piece. Suggested retail Price £4.799.00 ONE ONLY £1,950.00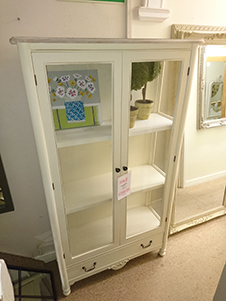 Cream painted two door glazed display cabinet with glass sides and bottom drawer. Was £499.00 ONE ONLY £299.00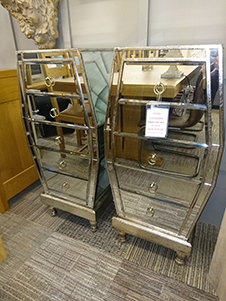 Two all mirror side cabinets. Features 5 drawers with bevelled mirror glass in a contemporary design. Were £499.00 each. STOCK CLEARANCE £175.00 each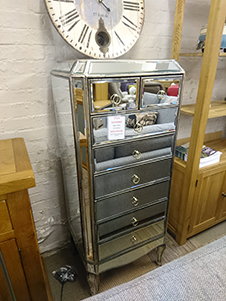 Large mirror chest with 6 drawers. Was £699.00 SALE PRICE £250.00 (scratches on top)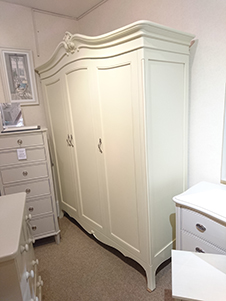 Made by winsor, Isobel range. Large triple wardrobe. Carved French style in cream. Was £1,750.00. TO CLEAR £1,250.00 (excludes delivery)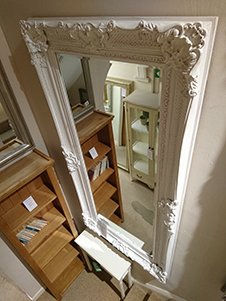 Stunning, large carved mirror painted in off white. HALF PRICE £189.00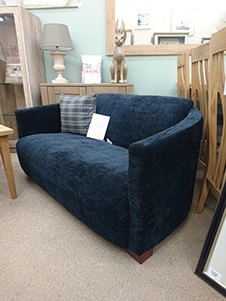 Made by Worth furnishing. Ebony velvet modern 2 seater sofa. Was £599.00 SALE PRICE £399.00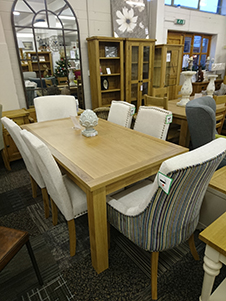 Solid oak and oak veneer fixed top dining table, with 4 fabric side chairs. On display at Blackminster show room. TO CLEAR £499.00 (end chairs extra)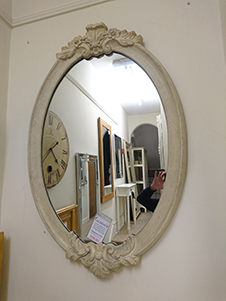 Large oval mirror in distressed stone finish. Was £175.00 SALE PRICE £99.00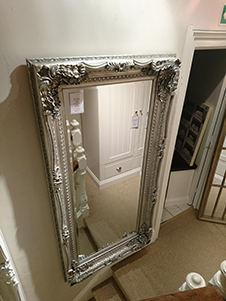 Fabulous large carved mirror in silver finish. HALF PRICE £189.00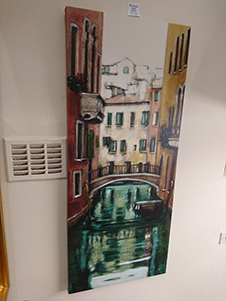 Canvas print. Venice scene. Was £75.00 SALE PRICE £59.00